Advanced Processing Platform
The MoneyMatrix payment processing platform allows merchants to consolidate all client, risk, KYC and transactional data in the Unified Back Office.
Forget huge development operations and costs – we've done all the hard work producing a premium PSP platform, accessed through a single integration.
New solutions, risk management, KYC and a whole suite of back office applications help to manage your payment business in a commercially astute, secure and compliant way.
MoneyMatrix Back Office provides a Real-time Rules Engine for merchants to create payment routing, fraud and KYC rules that automate processes according to unique triggers.
MoneyMatrix streamlines processing while reducing the need for manual intervention and customer friction. Our transaction monitoring application, rules engine and workspaces create a work management process flow, allowing you to accept and process out payments efficiently.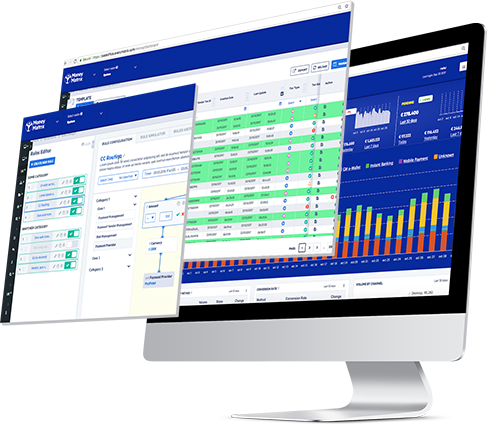 Automatic Rules
The real-time rules engine and simulator allows you to create automatic rules reducing the need for manual intervention.
Payment Routing
MoneyMatrix offers the capability to choose which provider to use and multiple options. Design how, when, why, and to where you would like a transaction processed.
Rules Simulator
Not sure of the impact of your rule on your processing? Simulate it. We built our simulator for you to test your rules before publishing them, thereby ensuring they work just the way you intended.
Custom Reporting
Want an instant view on your portfolio performance? Check out our Management Dashboard. Want to delve deeper – build your own real-time reports with our Custom Reporting Suite.
REDUCE OPERATIONAL COST AND OVERHEAD
We help clients optimise payment processing and increase sales opportunities. By creating work flow management processes, we streamline processing whilst reducing the need for manual intervention – allowing merchants to accept and process out payments efficiently and reduce customer friction.
MANAGEMENT DASHBOARD
Offering a detailed visual 'snapshot' of your portfolio performance. Add and remove information to configure the management dashboard your way.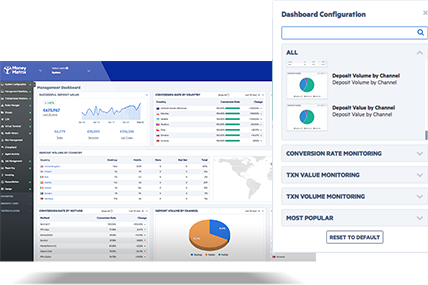 TRANSACTION MONITORING APPLICATION
Real-time transactional monitoring
Holistic customer view for quicker decision-making
Risk management and KYC data available in real-time
Configurable workspaces for better operational management
Vendor error messages showing why transactions are failing
Process, block, refund or flag for review
Permission based access rights for greater security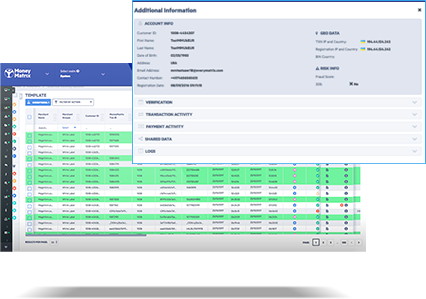 REAL-TIME CUSTOMISABLE REPORTING
The MoneyMatrix team's combined knowledge, tools and expertise support our partners and deliver information to make informed, fast decisions that push performance forward via Custom Reports.