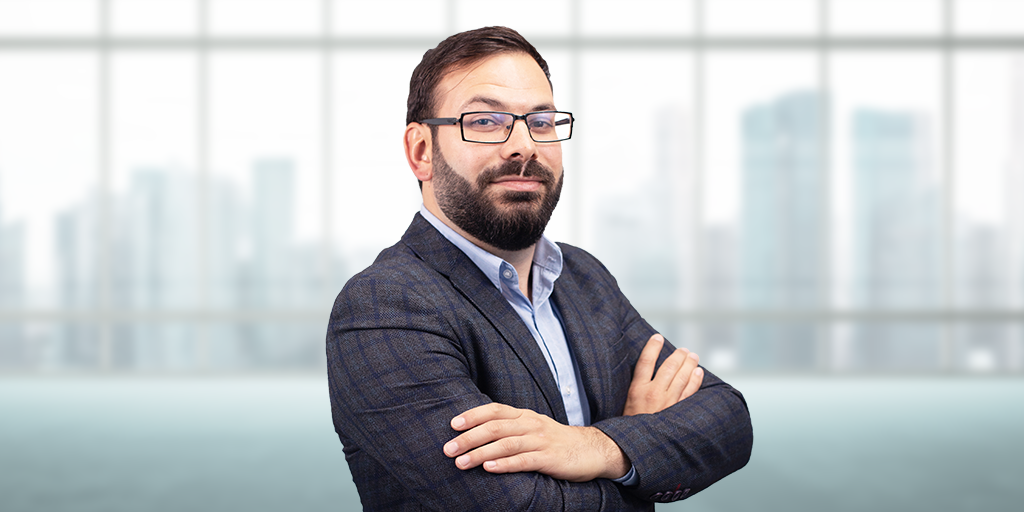 MoneyMatrix's new CEO Samoil Dolejan acknowledges that the payments industry is highly competitive, full of intricacies, and most importantly, there is no room for mistakes. But after working for EveryMatrix for four years, he has learned what merchants want from a platform provider; to "make payments simple". For players, there's nothing simpler than using payment methods they already know and like, and that's why Dolejan is aiming to grow MoneyMatrix's portfolio of local and international payment solutions even further in 2020.
Casino Review: Having worked at EveryMatrix for four years prior to your recent appointment, how well do you feel it prepared you to lead MoneyMatrix?
Samoil Dolejan, CEO of MoneyMatrix: All the professional experiences I had in the past years helped me build the necessary knowledge to run MoneyMatrix in an effective way. I've started my journey in EveryMatrix as the CEO of the PAM (player management platform), GamMatrix, before moving to the CFO role for the Group. Both of these jobs gave me a deep understanding of the multiple sides of the business. At that time, EveryMatrix owned two B2C brands, Jetbull and BetBrain, and offered a white labelling solution to 3rd party operators. This was before the company turned entirely to B2B software provision.
Running B2C brands in iGaming has its unique set of requirements, starting with compliance, responsible gambling, managing marketing campaigns and finishing with payments, anti-fraud and KYC. EveryMatrix offered me a challenging (yet very rewarding) job. By putting myself in the merchant shoes, I understood what can make or break the business.
Four years later, at MoneyMatrix, I put the needs of our clients at the top of my priority list. It's our job to understand how we can help merchants run their payments operations smoothly, in a simple way, taking into account all their demands, so we can provide added value on top of the platform and services we offer.
CR: What attracts you to the payments industry? Are there any philosophies that you follow to stay ahead of the curve?
SD: The payments industry has a lot of intricacies. It also has a high dose of competitiveness, which I think fosters innovation and pushes companies to get better, attract talented people, and develop high-impact solutions. Traditional banking is being deeply disrupted by up-and-coming FinTech companies, which I think ultimately translates into happier customers, faster service, and higher satisfaction.
My professional philosophy is straightforward and brought me a long way – work hard, work smart. I highly value strong work ethics, honesty, and leaving the ego at the door to do what's best for the clients.
The team here at MoneyMatrix shares the same values, we have a great organizational culture and we are connected to what's happening in the world. This curiosity and desire to be high performers means we take the time to listen to our clients' needs and help them achieve their ambitions. Ultimately, we grow together with our partners and clients.
CR: How important is the industry to the iGaming sector? What are the key issues operators face when it comes to payments?
SD: The online gaming sector wouldn't exist without payments. If you can't take any deposits, anything else becomes irrelevant. There is a lot of attractive gaming content available, which gets players interested and engaged, but without payments, there is no gambling.
There is a critical link between the two of them and they are so deeply connected that it's impossible to run a successful casino or sportsbook without making sure your payment processing is working flawlessly. iGaming is a high-risk industry which faces a lot of scrutiny from regulators and other authorities. Simply put, there isn't any room for mistakes.
Operators usually struggle to get the right coverage for their market. A localized payments portfolio helps build player trust, enhances the customer experience, increases loyalty and improves retention.
A fast KYC and onboarding are of utmost importance for operators. Players' expectations have risen over the years and everyone is looking to help them open accounts fast and in a frictionless manner. This is easier said than done, but I think operators today take advantage of many solutions out there to automate processes and reduce operational overheads.
CR: What are the current strengths of MoneyMatrix over its competition, and how will you develop them over the coming 12 months?
SD: MoneyMatrix was built as a stand-alone payments product that can cater to any industry. However, we learned a lot from the iGaming world and applied that knowledge to be able to offer the best services to iGaming operators and other high-risk clients. The synergy we have with EveryMatrix's PAM, casino and affiliate solutions is remarkable and operators are very happy with it. As a payments gateway, our main focus was to make sure our product is keeping up with iGaming demands. Having achieved that, adapting our offering to low-risk industries becomes an easy job.
We did extensive product testing, invested in new product development and improvements, which I think helped us stand out from other payments processing companies that do not have the same understanding of the needs of iGaming operators. We aim to extend our capabilities so we can achieve the same flawless interaction with other iGaming providers as well.
Gaming operators using MoneyMatrix's back-office and rule engine are impressed with its usability. Their teams usually learn to use the product very fast, even if they don't have any payments experience, thanks to the modern interface which is very flexible and customizable. Setting up KYC and fraud and processing rules is easy because we created a visually attractive and user-friendly interface. We also invested a lot in automation, and we are always working to find new ways to help merchants reduce costs. For our merchants, everything we've done ultimately leads to a significant improvement of day-to-day operations.
CR: Are there any areas you would particularly like to expand for MoneyMatrix?
SD: The first area we are continuously investing in is our portfolio of partners. Improving payments coverage is at the top of our list, because as I said earlier, this is a major issue operators face. They need local payment methods to target different countries. To date, we have integrated 230+ local and international payments solutions.
We are also planning a revamp of our current identity. Both the team and I are very faithful to our credo of Making Payments Simple, and we are on a quest to make sure our branding is following the same principle.
From a commercial perspective, we are continuing to secure new iGaming partnerships, but we also aim to expand our reach in eCommerce and FOREX, areas in which we believe MoneyMatrix can achieve success. We are also focusing on securing Tier 1 clients that can unlock the full potential of the software that we built.
The original version of this interview has been published by Casino Review on June 30, 2020, under the title MoneyMatrix: Making payments simple with the right software.